< Suits
Charcoal Flannel Pinstripe Suit
USD
$649
$389
Perfect for cooler temperatures, flannel provides extra warmth with a luxurious texture.
Learn More
Product Overview
Charcoal Flannel Pinstripe Suit
USD$649 $389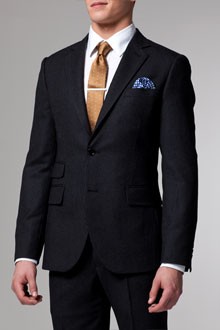 The Charcoal Flannel Pinstripe Suit not only emotes ruggedness and durability but also provides you with the added warmth and luxurious texture that cannot be achieved with another fabric. Because of the heavier material this is not your regular business suit anymore as all the subtle details of the suit are now exaggerated, but still refined and sophisticated.
100% Wool
Fabric Weight: 295 g/m
100% Wool
Fabric Weight: 295 g/m
Gallery