Virtual Style Consultations
Our stylists can answer all your custom clothing questions, give style advice and help you upgrade your wardrobe - all from home. Just choose your timezone, book your appointment, and we'll send a link to chat with our experts face-to-face.
What you can expect
MEET THE SUIT EXPERTS

Book an appointment with one of our Style Guides. They'll take your measurements, walk you through our extensive customization options and ensure you order a perfectly fitted, fully personalized suit.

MAKE IT YOUR OWN

Choose the fabrics you love and the customizations you can't live without everything from lapels and linings to monograms and contrast buttonhole stitching.

PERFECT THE FIT

When your suit arrives, come back to our showroom for any final alterations our expert tailors will ensure your garment fits just right.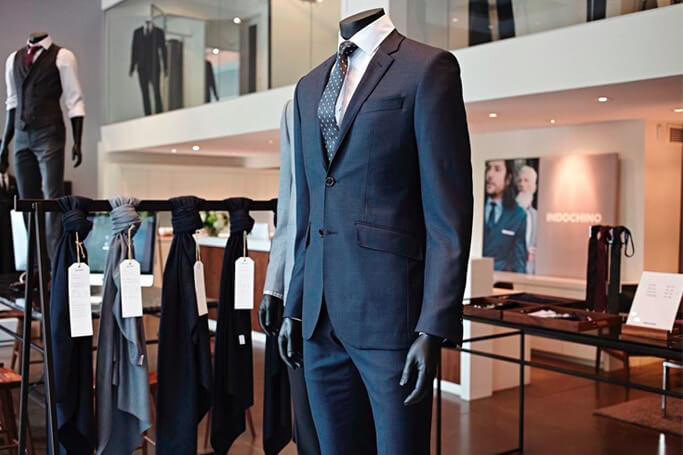 ABOUT INDOCHINO
INDOCHINO is a leading innovator in the world of Made to Measure menswear. Since our founding in 2007, we have elevated the design, production and delivery of perfectly tailored, fully personalized suits, shirts and accessories. Our multi-channel customer experience allows men to order custom garments at excellent prices either online or at any of our North American showrooms.
BOOK AN APPOINTMENT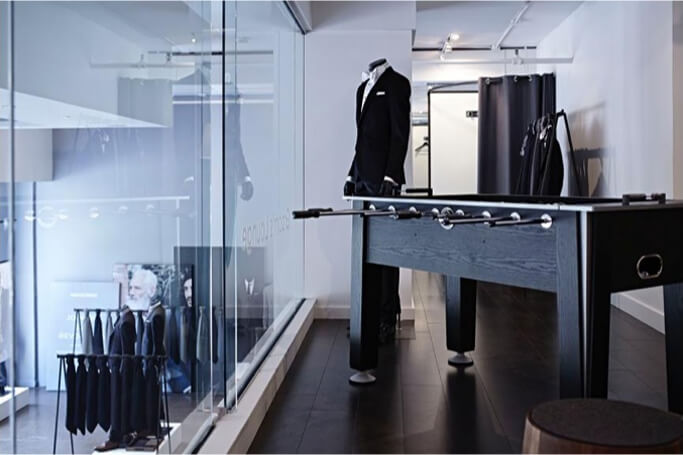 WEDDINGS
For suits tailor made for your big day, visit the groom's lounge at one of our showrooms. Our expert Style Guides will curate outfits for you and your groomsmen that perfectly match your wedding's theme and budget. We make it simple for you to look great and feel confident on one of the most unforgettable days of your life.
BOOK AN APPOINTMENT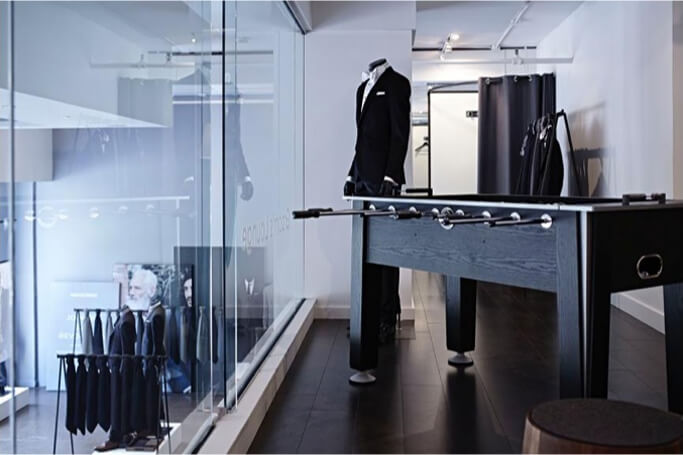 Frequently Asked Questions
When will my local showroom be reopening?
We are assessing all of our showrooms on an individual basis and starting to open cautiously, safely, and in accordance with local guidelines. This means that when we are allowed to reopen a showroom, we will be doing so in phases and implementing health and safety measures so that you feel safe and comfortable.
You can check the status of your local showroom, including updated operating hours and appointment availability, here.
Do I have to book an appointment?
Yes, appointments help us maintain social distancing, allow time for proper cleaning between clients, and take the guessing game out of availability. You can review appointment availability and book online here.
My alterations are currently at a showroom, when can I pick them up?
As our showrooms reopen, we will contact you when your alterations are ready to arrange a pickup.
How should I prepare for an appointment?
You are required to wear a mask during your appointment — you can bring one with you or we will provide one for you
All appointments are 1:1. To allow us to maintain social distancing, please let us know in advance if you will be bringing guests
If you are feeling unwell, we ask that you reschedule your appointment
What health and safety precautions are being taken in the showroom?
We are taking a series of measures to ensure the health and wellbeing of everyone:
Taking temperature checks each time one of our staff members enters the showroom
Requiring anyone entering the showroom to sanitize their hands
Requiring customers to wear a face mask during appointments
Requiring employees to wear fresh gloves and a face mask during appointments
Undertaking a sanitization process between customer appointments. That's everything from the stylus pens used to authorize payments on our iPads, to the curtains of our changing rooms, and even the garments themselves
Altering hours of operations and limiting occupancy
Asking all customers to reschedule their appointment if they are feeling unwell
Will social distancing be practiced in the showroom?
We are limiting the number of people in the showroom to allow for social distancing. Team members will wear fresh gloves and a mask at all times, including when taking measurements and confirming the fit of garments.
Will my altered suit be sanitized before being returned to me?
Yes, your garments will be steam cleaned prior to being worked on by our team and again prior to being returned. We will also place your garments into a garment bag to help streamline hand-off and limit their exposure to other surfaces.
I have received my suit and I need alterations, what happens now?
As per our terms and conditions, if you have any concerns about the fit, quality, or construction of your garment, please contact our Customer Experience team within 10 days of receiving your garment.
I need to order a suit but don't feel comfortable visiting a showroom, what options do I have?
Indochino started online and became the first to make ordering custom apparel online easy:
If you have ordered from us before, you already have a measurement profile. Once you've selected and customized your garment, simply log in to your account to proceed with the order.
If this is your first time, once you've selected and customized your garment, you can create an account and follow our simple video guide to submit your measurements. Don't have a tape measure? Get one here.
If you would like to view fabrics in person prior to placing your order, you can order one of our Tailors Kits and be reimbursed the cost on your next purchase. These come with up to 16 fabric swatches and two tape measures and you can find them here.
We are now offering Virtual Style Consultations which provide all the expert guidance of an in-person appointment, without leaving your home. You can find out more and make a Virtual Style Consultation here.
Will I experience delays receiving my order?
Our production team is on track to produce your order and ship in two weeks. Please note that we will not be able to start producing your order until you have created a measurement profile and customized your garments.
Can I get COVID-19 from my Indochino package/order?
The World Health Organization has advised that the risk from packages is very low and that you may open your package and wear your garments. You can read more on the topic here. 
What is INDOCHINO doing to ensure the safety of its production employees?
Our number one priority is the safety of our teams around the world. Our production team is practicing the following preventative protocols to ensure their safety and the safety of our customers:
Taking temperatures before the start of each workday and conducting regular checks-in with leaders to ensure everyone is taken care of and healthy
Requiring everyone entering the factory go through a disinfection station and put on a face mask
All equipment, floors, and frequently touched objects and surfaces are disinfected everyday
Our fabric warehouse and products are disinfected by ultraviolet lamp
All employees wash their hands frequently throughout their shifts
At INDOCHINO, we are not health care professionals. If you have further questions about the virus, please contact your health care provider or explore the World Health Organization (WHO) or Centre For Disease Control (CDC) websites.
Find a Location