Indochino Showrooms
What you can expect
MEET THE SUIT EXPERTS

Book an appointment with one of our Style Guides. They'll take your measurements, walk you through our extensive customization options and ensure you order a perfectly fitted, fully personalized suit.

MAKE IT YOUR OWN

Choose the fabrics you love and the customizations you can't live without everything from lapels and linings to monograms and contrast buttonhole stitching.

PERFECT THE FIT

When your suit arrives, come back to our showroom for any final alterations our expert tailors will ensure your garment fits just right.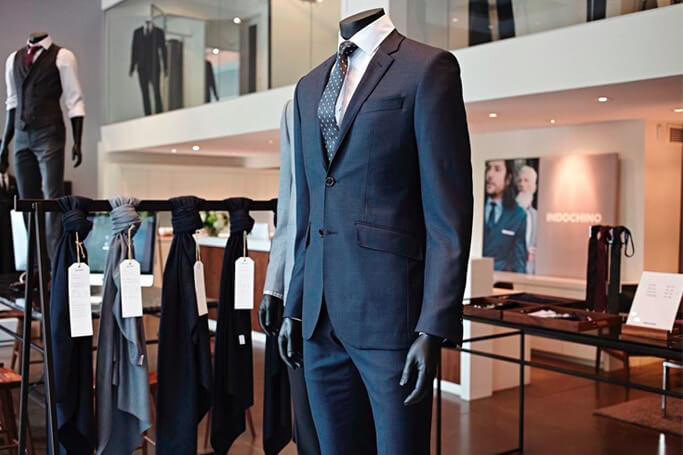 ABOUT INDOCHINO
INDOCHINO is a leading innovator in the world of Made to Measure menswear. Since our founding in 2007, we have elevated the design, production and delivery of perfectly tailored, fully personalized suits, shirts and accessories. Our multi-channel customer experience allows men to order custom garments at excellent prices either online or at any of our North American showrooms.
BOOK AN APPOINTMENT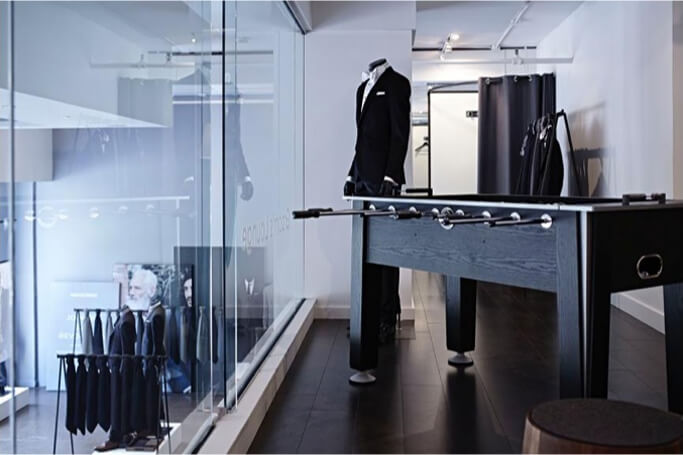 WEDDINGS
For suits tailor made for your big day, visit the groom's lounge at one of our showrooms. Our expert Style Guides will curate outfits for you and your groomsmen that perfectly match your wedding's theme and budget. We make it simple for you to look great and feel confident on one of the most unforgettable days of your life.
BOOK AN APPOINTMENT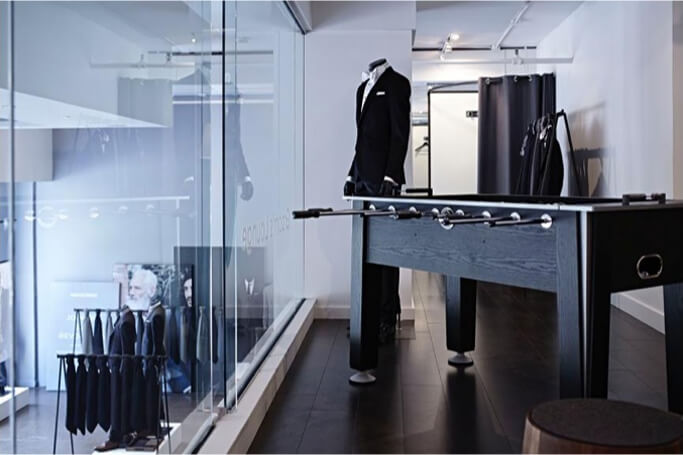 Frequently Asked Questions
What should I expect during my first appointment?
Your Style Guide will take your measurements, walk you through our selection of high quality fabrics, and give advice on customization and styling. You'll be set up with everything you need to buy in store or online.
How long will it take to receive my order?
You can expect delivery within 2 weeks of ordering. Because custom suits sometimes require a little tweaking to achieve the perfect fit, we recommend allowing for an additional week to have it tailored when ordering for a special occasion.
Do you take walk-ins?
Of course! However, we still recommend booking an appointment to secure a time that's convenient for you. For alterations, we request that you book an appointment to ensure we have a dedicated Style Guide available for you.
I've received my order, but it's not quite right. Can you help?
Absolutely. Book a Fitting Consultation with the showroom where you were fitted. Your Style Guide will help with any alterations that are required. If you have further questions, please contact us by email at info@indochino.com or call 1 (855) 334-0788 (Mon-Fri: 7am - 5pm PST).
How long is an appointment?
Most sessions last about 60 minutes.
Can I come with a friend or group? How about a wedding party?
We are happy to accommodate groups - it's a great way to outfit your wedding party all in one go. Please book an appointment and let us know how many people will be joining you.
How do I change or cancel my appointment?
If you need to change your appointment or have any questions, please call the showroom directly at the phone number listed for your city.
What happens if I want to change something on my order after I have left the showroom?
Just contact our customer experience team within the next 24 hours after placing your order and they will take care of making the changes to your order.
Find a Location